Good Morning Folks!
Hope you all had a great weekend! My weekend began on a happy note after my son's Luau party on Friday morning. His first grade class had an absolute blast on the water slide, throwing water balloons, playing with hula hoops and enjoying a barbecue! Lots of planning but so worth it in the end. On Sunday we had a birthday party to attend and all was going well until one of Thijs' classmates fell on his head and was knocked unconscious! What a frightening experience it was not only for his parents but for all the other parents and children as well. Seeing this little boy not respond was very distressing but fortunately he came round by the time paramedics arrived. He was taken to the hospital on a stretcher and stayed there overnight for observation. The whole class made him get well cards in school yesterday so when he returns he will feel all their love. With situations like this it makes you realise just how quickly a life can change! Makes you appreciate each and every moment!
This week over at
Midnight Madness
we have another fun sketch for you to play along with.
This weeks sketch...it's "YOUR PICK" Make it fancy, clean and simple, or somewhere in-between.
"YOUR CHOICE"
Enter one style or both this week.
Just have fun and come play with us :)
Our MMSC104 Gold Star Award goes to...
#40 Gro Tjeltveit
Our Remarkables Awards this week go to...
#20 Sieta
#21 Kylie
#24 Connie M
#42 Vickie Kertz
Our MMSC105 Weekly Bonus Sponsor is...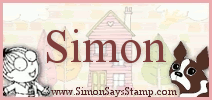 This week's sponsor is Simon Says Stamp. One random winner will win a
$20 Gift voucher
to their fabulous store. Be sure to stop by and check out all their wonderful crafting products.
Thank you so much for your wonderful prizes this week.
**Our May Monthly sponsor is....
http://dudetimedoodles.com/
Total Grand prize package is well OVER $100 WORTH!!!
WOW!!!Thank you so much Boni for this months fabulous grand prize!!
See the prize
HERE!
My card this week is from
Dude Time Doodles (Boniebleux Designs)
and yes I used it a couple of weeks ago! This time I was trying something new for me. It's the first time I've used a digi and colored it one color! I was trying for the sepia effect like the old fashioned photographs, and whether I was successful or not I like how it turned out. I raided DH's garage for the washers and other metal embellishments!! LOL oh and the ribbon is all from Really Reasonable Ribbon.
Thank you for stopping by today, have a great week!
Hugs,
Charlotte