Happy Tuesday Folks!
It's time for another
Midnight Madness
sketch challenge, are you all ready? I've been busy trying to get some cards made and get ahead before I leave for vacation and must start to preschedule my posts otherwise I might forget what I've made for which sketch!!! LOL
"YOUR CHOICE"
Enter one style or both this week.
Just have fun and come play with us :)
Our MMSC107 Gold Star Award goes to...
#18 Lori
Our Remarkables Awards this week go to...
#3 Kaila
#20 Sarah T
#42 Gry-Beate
Our MMSC108 Weekly Bonus Sponsor is...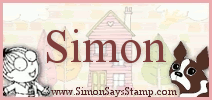 This week's sponsor is Simon Says Stamp. One random winner will win a
$20 Gift voucher
to their fabulous store. Be sure to stop by and check out all their wonderful crafting products.
Thank you so much for your wonderful prizes this week.!
Our June Monthly sponsors are....
KennyK Collection
&
Whimsy Stamps
View their awesome monthly Grand prize worth
over $100!!
For my card this week I used one of
Dustin Pike's
images. I love this surfing dragon as it reminds me of the summer and going to the ocean! Speaking of which, I took Thijs to the ocean last week and we enjoyed the day there, the only down side was that there was a warning for man-o-wars!! Luckily we didn't come across any when we were in the water! Should have taken surfing dragon with me to fight them off!!
I colored the image with copics then layered it on some blue and white cardstock. The dp was embossed with two different folders to give a little extra dimension. The star word stones are some I had in my stash, but I think I bought them at Michael's a while ago!
I hope you'll stop by my DT sisters blogs to check out their fabby creations and leave them some love.
Thanks for stopping by!
Hugs,
Charlotte